Extracorporal shockwave therapy is a non invasive treatment that can be used for some musculoskeletal injuries.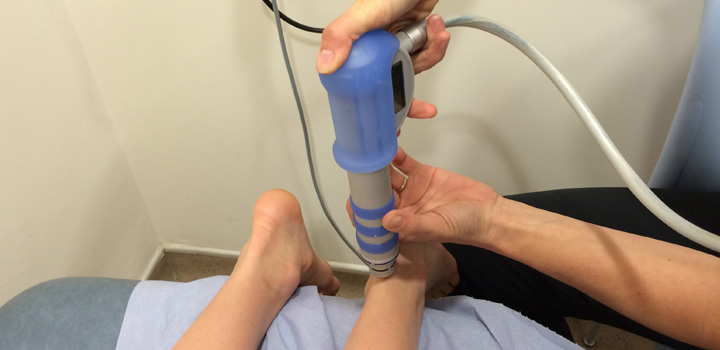 Extra-corporeal Shockwave therapy (ECSWT) works by delivering high frequency ultrasound waves to injured tissue. It is particularly useful for some tendon problems and plantar fasciitis. ECSWT breaks down damaged tissue, promotes useful inflammation, which then encourages the tissue to heal more effectively. This will be delivered by your sports medicine consultant at the time of your outpatient treatment. It is normally delivered in three or more separate treatments.
Shockwave treatment is delivered without the need for anaesthetic. Normally minimal time off sport is required after shockwave treatment.
Shockwave treatment can be used for the following common conditions:
P

Some types of Achilles tendinopathy

P

Calcific tendinopathy of the shoulder or elbow

P

Golfer's elbow and tennis elbow

P

Plantar fasciitis

P

High hamstring tendinopathy

P

Patellar tendinopathy

P

Gluteus medius tendinopathy (aka trochanteric bursitis) of the hip