Dr Priathashini Krishnasamy
MB BCh BAO (Belfast, UK), MRCP UK (London), MSc SEM (Nottingham, UK)
Dip SEM UK & Ireland, MPhil Medicine (USyd, Australia), FFSEM UK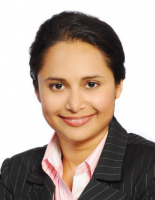 Dr Krishnasamy is an experienced Sport & Exercise Medicine physician and is passionate about a holistic approach to health and wellbeing, encompassing physical activity, dietary and lifestyle measures.
She is a Fellow of the Faculty of Sport and Exercise Medicine (FSEM) of the UK and was appointed as the Honorary Secretary of the FSEM UK in 2022. She has experience in working at national and international sports events including the London 2021 Olympics and Paralympic Games as well as the Gold Coast 2018 Commonwealth Games.  She is currently Lead for the Exercise Medicine service within the Sports Medicine Department at the University Hospitals of Leicester. She is also a NHS Clinical Entrepreneur and an associate trainer with Doctors Training where she provides mentoring and support to doctors on wellbeing, self-care and resilience.
She recently completed a Master of Philosophy (MPhil) in Medicine at the University of Sydney, Australia on 'The role of skeletal muscle in knee osteoarthritis' and was an invited speaker at the Royal College of Physicians on 'Making a difference with physical activity in chronic diseases'.
She advises on the diagnosis and rehabilitation of sports injuries including biomechanical assessments and exercise prescription in wellness and chronic diseases with a holistic approach.
Special interests
Advises on the diagnosis and rehabilitation of sports injuries
Advises on exercise prescription for wellness and in the management of chronic diseases
A holistic approach to management
Biomechanical assessments
Languages spoken
English
Treatments and tests offered by Dr Pria Krishnasamy at Nuffield Health
Knee joint injections
Referral for Xray, MRI, Ultrasound and USS investigations I
Referral for image guided joint injections
Referral for physiotherapy and exercise assessments